Return to the main page.



Buy the book "Cats Who Quilt." Buy your cat the "Certificate of Membership in the League of Cat Quilters." Make your cat very happy. Buy other stuff too, like some of the other cat quilt pattern books featured on this Web site.



Read excerpts from the book 'Cats Who Quilt'



Read more excerpts from 'Cats Who Quilt'



Read the Table of Contents of 'Cats Who Quilt'



Read stories about special cats who quilt, submitted by visitors to this Web site. Submit your own story about your quilting cat.



Please read these all-important sewing room safety tips for pets!



Free Cat Quilt Patterns to Download



World's Biggest Cat Quilt Pattern Database. Find cat quilting patterns in this "shareware" directory of cat patterns around the world.



History of the Web site, and the book's rocky road into print.



You can read about me and find out why I do these crazy things.



Here's where you'll find tutorials for designing needlework on your computer, as well as everything you need to know about printing photos on fabric.



Proof that all our needlework projects come from a higher source.



Is there a special guy in your life who runs your quilting Web site, who drives you to fabric stores, who humors you with "Honey, but that quilt looks lovely!" when you're too embarrassed to pull it out of the closet? Honor your special guy here in our special feature Quilt Guy of the Month!



Looking for information on how to use a sewing machine with a blow stick or help for quilting if your eyesight is failing? Here's some help.


Quilters Who Will Quilt Custom Cat Quilts for You (and Even Put Your Kitty on the Quilt)


Several visitors have written to ask if I know of any quilters who sew cat quilts on commission. If you're a quilter who does, drop a note with the information about yourself that you would like posted on this site.

The cute multi-colored embroidered cat you see above is the work of Diana C. Miles' Designs By Diana in Wheaton, Maryland. Diana stitches cats like these--and many more--on the mini-quilts she sews and sells. Wouldn't a cat like this look great on a denim shirt? (Honestly, folks, I think I'm going to commission Diana to embroider cats on every garment in my closet.) Diana says she has hundreds of cat machine embroidery patterns for customers to choose from.

Anne Dimit is a cat lover, quilter and fiber artists who creates beautiful custom batik prints of cats. Have her create a batik of your cat from a photo and sew it into a quilt. Write Anne for more information.

Norma Dooley in Seattle sews cat photo quilts. Have her sew your favorite photos of your cat into a quilt! She charges $150 for a quilt consisting of 9 photo blocks--in other words, 9 photos of your cat. She also sews photo pillows (which are very popular. Visit her Web site to view her work.

Norma Goodale runs a business called Cat Tail Quilts. She sells all sorts of cat quilts, cat door toppers, "whatever the customer wants." She is aided by her own six cats.

Tine Hessellund in Denmark sew and sells cat quilt. She says she has a dozen patterns that customers can choose from. Stop by at Tine's Web Site.



Nana Montgomery's quilt "Mason." Copyright Nana Montgomery. Click Gallery on her Web site to see more of her cat-themed art quilts. Sorry, no patterns are available as these are one-of-a-kind art quilts.



Vicky Wells sews beautiful cat quilts and you can see her gallery of them at her Web site.

Kathy McCann also sells custom and original cat quilts."My cat quilts are 14inch squares in a variety of known and unknown quilt patterns. Price ranges are $10-$25 depending on the difficulty of the pattern requested and the material used." She also makes "people-sized" quilts using cat patterns and fabrics, usually priced between $150 and $350.


Classic Rug Collection Inc. will sew up a cat quilt of your pattern or design. The company can also create custom rugs based on your favorite cat quilt or pattern.

Bluebird Gardens makes and sells quilts on commission based on some of the patterns you'll spot on this Web site. The quilters are made by Ozark mountain quilters.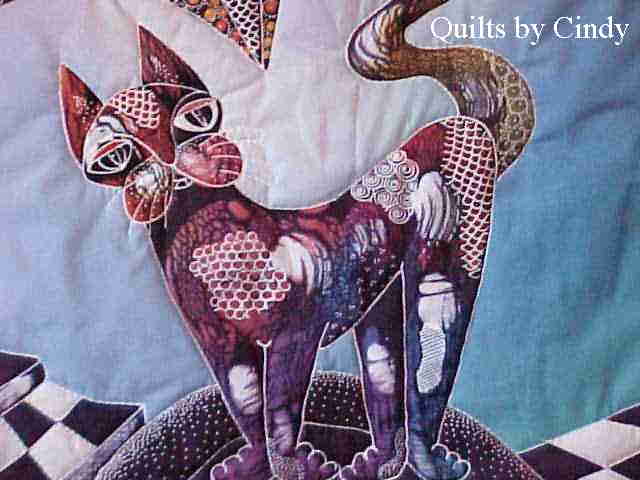 At Quilts by Cindy you can order custom cat and baby quilts, quilted by Cindy Amidon.


Buy Cat Quilts on Ebay


Charlotte at Bluebird Gardens finds that an effective sales technique for selling antique quilts on the Web auction site is to photograph them with her cats. Of course, some potential bidders who are allergic to cats do complain. (They must never have been to an estate sale and seen the grime and pet hair on some items that antiquers cart home.) But most bidders enjoy the photos. You can see Charlotte's quilt sales by using eBay's Search feature to search for bluebird-gardens or heading to her Web site. She also sells an Ozark cat quilt for those too busy to stitch.



Cats Who Quilt is a trademark of Fruitful Plains. Text on this Web site Copyright 1995, 1996, 1997, 1998, 1999, 2000, 2001, 2002 Judy Heim. May not be reproduced in any form--in either e-mail messages or on Web sites without written permission. All illustrations are copyright 2000, 2001, and 2002 Irina Borisova. They may not be reproduced without permission. Photos and quilts are copyrighted by their respective artists, and may not be reproduced without their permission.
---